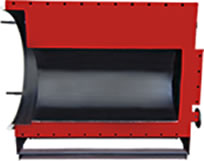 Having the chance to make use of the huge communication possibilities of internet, we will try to present you, in the best, more analytical and complete way, the objects at which our company develops its activities.
Our vision is to create a competitive company in the area of heating, which will be capable to support efficiently our customers' needs, taking into consideration the specialties of the Greek reality and its need to adapt to the European and international market.
To promote direct and lastlong collaborations with our customers, aiming at their efficient satisfaction and direct service.
To differentiate through strategic partnerships which will make us capable of providing comprehensive proposals and solutions to our customers and to be competent member of a fast developing country as well as to contribute to the economic growth.

Our aim is to inform those who are interested in this sector and mainly the professionals of the heating and the solar water heater sector (plumbers, heating fitters, mechanical engineer, millwrights and shops)
We believe that the right installation of heating and solar water heater does not depend only on the work of the technician, but also on the quality of materials that are used, which has been guaranteed by "Mimmis Theodoros S.A." for 33 years now.
Furthermore, the good work from the part of the technician is the only advertisement and the "ticket" for future collaborations.
The circle closes with private individuals, who are the final buyers and by installing our guaranteed products they make a small investment.
It is an investment because the purchase of a boiler or of a solar water heater is for once and we use them continuously. So, we expect the best possible efficiency, particularly as far as the boilers are concerned.
Our company has been involved, with responsibility and prudence, in the sector of construction of oil heating units, boilers and their accessories, as well as of solar water heaters for 25 years, in Greece. And it is ready to provide the necessary study that suits to your place.